I was introduced to Mithila painting at a talk hosted by the
World Affairs Council
in SF.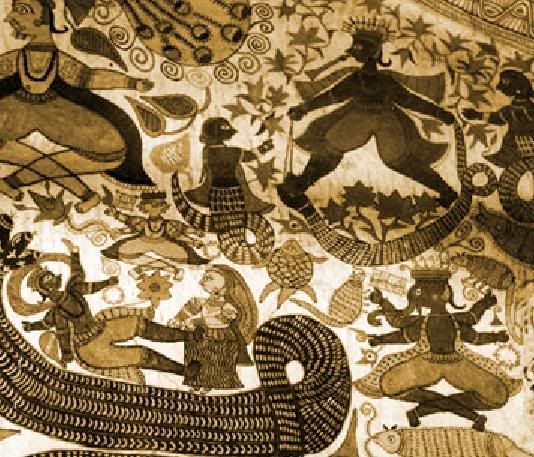 Women living in Madhubani, India (
map
) have been decorating their homes during communal rituals for hundreds of years using twigs for brushes and making pigment from clay, berries, and dung. The oldest woman will start a picture by placing a red dot in the center of a wall. The most skilled artists outlines the principle figures, and younger girls fill-in the details. The
Ethnic Arts Foundation
writes, "These paintings, inside their homes, on the internal and external walls of their compounds, and on the ground inside or around their homes, create sacred, protective, and auspicious spaces for their families and their rituals."
Financially poor, these folks are heavily dependent on agriculture, leaving them vulnerable to droughts and floods. During an extreme drought in the 1960s, outsiders introduced paper to the community and encouraged local artists to expand their work to that medium, making their art transferable/sellable and providing them a weather-resistant source of income.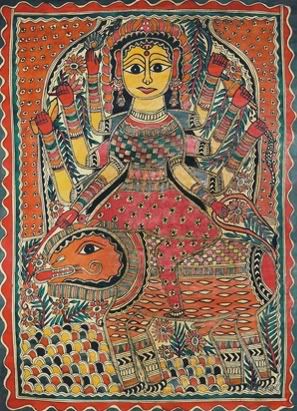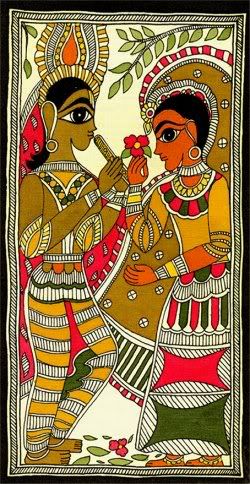 Unlike the collaborative approach used to decorate structures, each Mithila painting on paper is created by a single artist. In 2003, the
Mithila Art Institute
was established to school 25 local artists annually (including a few men) in traditional imagery and techniques. Without commenting on the cultural impacts of personalizing or commercializing the process, I can say the work is very satisfying. (Yes, the final picture below represents in the Twin Towers on 9/11/01. It reminds me of the Afghan
war rugs
that date back to the 1980s.)
* * *