Xiaolu Guo's novel,
A Concise Chinese-English Dictionary for Lovers
, tells the story of "Z", a 23-year-old woman who travels from rural China to London to study English.
Definitions open each diary-like chapter.
Definitions are succinct, clear, tidy; real life: not so much. Isolated and lonely in London, she looks beyond her pocket dictionary for meaning and enters a relationship with a man 20 years her senior. Months pass, Z's English improves, and her sensibilities expand with a multitude of new experiences ranging from attending a sex show to participating in her first family Christmas. While her communication skills develop nicely, fundamental concepts, such as love, still require some reconciling.
Guo handles the personal, cultural and political aspects of this story deftly and with humor. She instills Z with a sensitivity, cleverness and poetic streak that makes the book highly readable. This is Xiaolu Guo's first novel written in English; she's also a film-maker. You can hear her speak about Concise in this NPR interview.
* * *
Imaginationally, an illustrated dictionary, details the daily experiences of Creativity Explored artist, Michael Bernard Loggins. Maybe your life is simple enough to fit within the confines of Webster's, but his is not. Loggins is a verbal mix-master who knows what's what.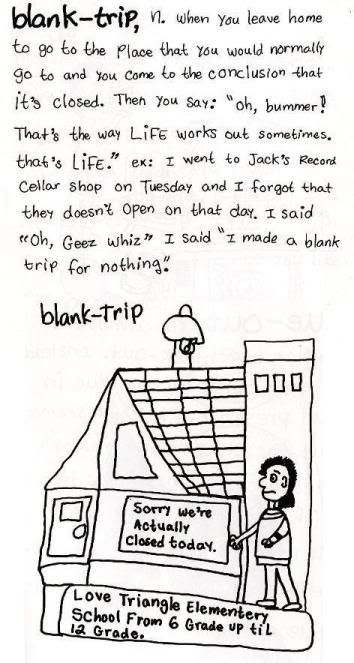 Imginationally
is the follow-up to
Fears of Your Life
, a handwritten book in which Loggins chronicles his fears both great and small.
Fears of Your Life
was featured on
This American Life
and excerpted in
Harper's
.